Infrastructure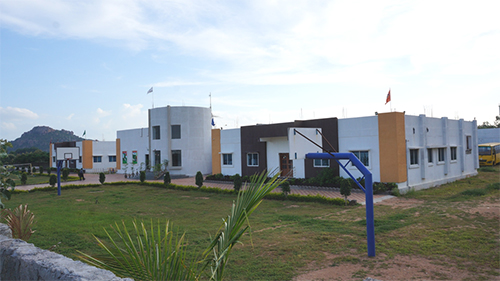 The Shloka School, spread out over 5 acres, not too far away from the city yet within city limits, provides fresh air and ample opportunities for the holistic development of children who will be accomplished individuals in many ways; happy and confident of leading their lot to a bright future.
Above all, children from Shloka will be responsible citizens of the world, with strong fundamentals and deep rooted values, to see them through the challenges of life. A school we believe should be a place where the child loves to be at and not where he/she dreads to go. Care has been taken and attention paid to detailing the infrastructure to suit our children's requirements.
The facilities include
Well ventilated and spacious classrooms
Well stocked library
Well equipped computer, maths and science labs
Audio Visual Labs
English Language Lab.
Play Ground
The school has a spacious playground of 4800 sq. mtrs.
Students in the classes I to V have 2 games/ sport periods per week and students in class VI to X have 2 sports periods.
Children are trained to play Football, Cricket, Dodge ball, Basketball and Throw ball.
Students are also trained in Taekwondo, Skating, Yoga.
Classrooms
The school is spread across four floors and has about 24 classrooms. All classrooms are spacious and well ventilated.
Music/ Dance
The school has an enthusiastic and lively Music and Dance culture. Music and dance are a part of the curriculum from class I to X. Students are taught Indian Music (Vocal).
Basic rhythm and movement is taught in the lower classes and in the higher classes, students are exposed to various dance forms.